Breast Prostheses
A World of Pink offers top-quality breast prostheses with anatomically perfected shape for all patients feeling unbalanced and unsupported.
Our custom breast forms have been tested and certified in correct function and finest quality by independent and certified test institutes. Breast prostheses have been approved and are listed with a medical aid number. They are made from silicone, microfiber, and film, all of which have been dermatological-tested.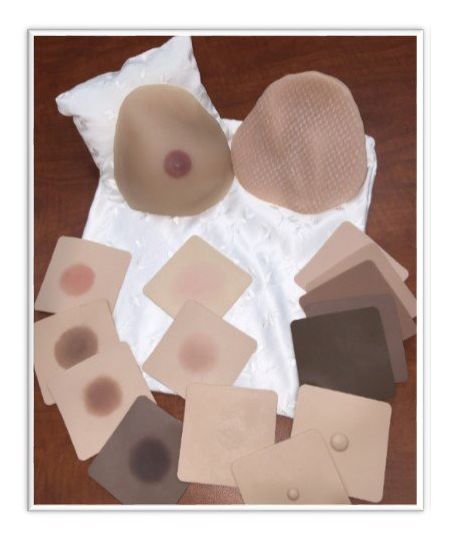 A World of Pink provides silicone breast forms with outstanding product advantages. The lightweight breast forms are not only soft and wonderfully compatible with skin and body, but also feel completely natural to the touch. Each breast prosthesis has natural movement and shape retention similar to a natural breast and has a long life thanks to its resistance to chlorine, grease, oil, and salt water.
Silicone breast forms provided by A World of Pink are unique int hat they mold gently to uneven scar tissue, shape the cup naturally, and flatten horizontally, just as a natural breast would. They are very suitable for women who like to remain active in their daily lives, as the prostheses are made with breathable microfiber technology. Silicone breasts are offered with or without adhesive pads, in a broad spectrum of skin shades, and in a variety of custom shapes designed to help balance and support a patient's breasts. These include partial, triangular, partial compression, movement fold, and other breast forms.
Nipple prostheses are also available! All custom breast prostheses offered by A World of Pink are compatible with our line of bras, which feature convenient pocketed cups that securely hold prostheses in place.